About Us
Atlanta I.T. Service an In Demand Solutions, Inc. company was started in 2002 with a few basic idea's. We believe in making service a core value by hiring the right people, empowering all staff members with the tools they need to get the job done while soliciting and using feedback from all of our customers. The feedback we receive from our customer base is is critical to our future success.
At Atlanta I.T. Service we employ a team of highly trained and certified professionals. The experience and integrity of our people is the key to our excellent service. Our Certified Technicians, Engineers and Sales professionals always work together to help you on every aspect of system design, implementation, support and maintenance. We are here to solve any problems or answer any questions you may have with the day-to-day operation of your network.
We also offer On-Site Training to help keep your staff sharp and efficient. Everyone here at Atlanta IT Service shares the belief that outstanding service to our customers will always be our first priority and be carried out with no exceptions. Employ our dedicated team to work for you and let us show you why we have such a high level of customer satisfaction and customer loyalty. Listed below are some of industry recognized certifications we currently hold.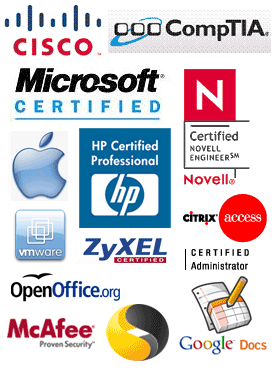 Our Certifications
---
HP Master Accredited Systems Engineer (MASE)
HP Accredited Integration Specialist (AIS)
Cisco Certified Network Associate (CCNA)
Citrix Certified Administrator (CCA)
Microsoft Certified Systems Engineer (MSCE)
Microsoft Certified Trainer Engineer (MST)
CompTIA A Plus
CompTIA Network Plus
CompTIA Server Plus
Certified Novell Engineer NetWare (CNE)