In many scenarios, we suggest users disable a security module named "Access Protection", which is installed as part of the Intel Security Agent, it should be disabled before installing/updating software or sometimes before running a remote support tool to give someone access to your computer. Here are the few steps needed to disable it's protection on a temporary basis.
First, right-click on the red and white "M" icon in the system tray, which is in the lower-right corner of your screen. Click "Manage Features", then click "VirusScan Enterprise".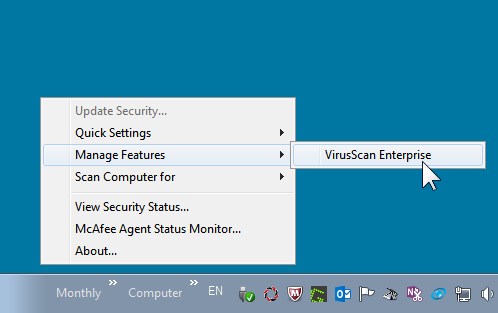 Right-click Access Protection, and choose Disable.

You can do the same for On-Delivery Email Scanner, On-Access Scanner, and Unwanted Programs Policy if you are having trouble with an install or update but normally all that is needed is the Access Protection module.