The new Areca ARC-1686-2NOD
For the past two weeks we have enjoyed getting familiar with a true Raid adapter for NVMe M.2 drives. This "2NOD" model will host just 2 drives but they do offer a "4NOD" & "6NOD" model for larger drive arrays. We took time to try this newly available offering from Areca in a few different recently released model computers and were meet with varying results and different levels of setup effort and will share a quick summary with you about that experience.
First it is important to look back at many offerings before the ARC-1686, many now are considered to be "legacy" products and many only worked in MBR scenarios. I believe you will find most recently released computers and workstations no longer support that legacy bios boot method and many only allow UEFI mode. Plus many high end model computers have some fantastic security that participates in the UEFI boot process and for some users this creates a bit of confusion in getting the cards and arrays setup and booting on some systems. But we think Areca did a fantastic job navigating these newer methods with this raid card.
We think the best approach with these new raid cards is if you want to choose a UEFI setup or if that is the only choice you have, is to make it easy by turning off all UEFI related security first and of course check to make sure you are on the latest firmware that your computer has to offer. Next we used a separate working computer to temporarily install the ARC-1686 in and installed the mraid utility on it just to update the firmware in the card to version 1.66. This enabled the device to be seen during a UEFI boot. If you desired you could setup everything from here, the drives, the array and the volumes but the firmware is all we decided to perform, then we took the card out, installed the drives and placed in the test computers for a traditional setup. Once the firmware was updated the setup process is fairly close to normal on most computers. Once installed and the computer is turned on press or select the required key for the boot menu and most of the computers we used displayed a new boot device, in most cases it was something generically named such as "Generic SCSI device" or "Generic SCSI Boot Controller" it would have been great to see that displayed as Areca 1686, but none of the systems we worked with offered that label. No big deal we choose the Generic SCSI device and soon arrived at the traditional setup raid screen, created our new array as normal a RAID 1, created two volumes, one 400GB for boot and system and the second one for data. Once completed, we changed our boot order and booted from a flash drive and installed Windows which does require the drivers in order to see the new array and volumes, so be sure to download and include in a folder on your install flash media/drive and select "Load Drivers" at the prompt. Once you are up and running be sure to go back in and turn back on any UEFI related security options that will work with the new raid card, test slowly, you might find some with not work.
Here are a few bragging details we liked about this new card that I think is very important to mention,
– It is an actual raid card with raid on chip, based on the Broadcom SAS3908/SAS3918
(Not sure why theses are getting so hard to find)
– It is a x8 PCIe Gen 4 and hosts 12Gb/s NVMe drives
– Has it's own power loss protection via super capacitors versus an add-on battery
– We found it works with Mac, Windows, VMware and even a Linux computer we tested with.
– It has SED support for your encryption capable drives, which we turned off on all drives during all testing
– Last but not least it has an Audible Alarm! We think that is amazing, no need to worry about a drive failure notice going to spam, anyone who walks by the device will hear something is wrong.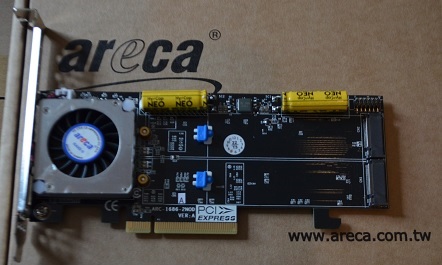 We all agreed it is a fantastic product all around, the only thing we were not happy about was when it was designed it seems no thought went in to accommodating drives with heat sinks. We even tested with some Seagate FireCuda 530 which might have the smallest heatsinks on the market. They are very thin and streamlined, but the spacing on the raid card would not allow any drive we tried that had a heatsink.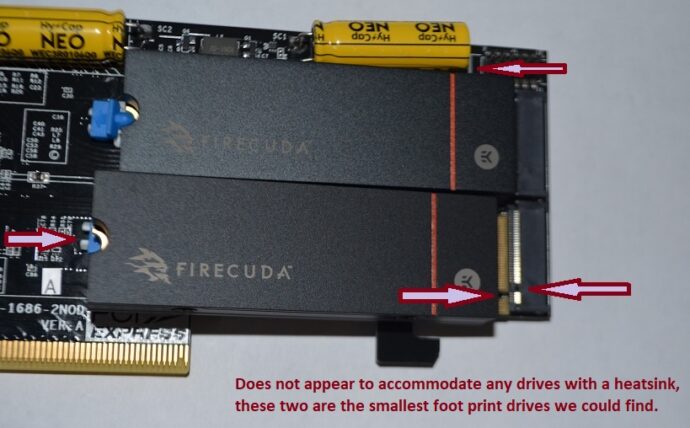 ---
---