Is your data in the Cloud secure?
When you upload data to your Cloud service, where exactly does it go? It is Secure? There are a few things to consider while looking for the best cloud solution for your company. If you're already using one, you be interested to know that there are options available that can let you keep your data on your own server rather than saving it to the internet.
With the rising popularity of online cloud based apps and services, mobile device access to your files has become nearly a necessity. It's also found almost to be the "norm" for home and business users to sync entire directories of their data with online storage accounts like Dropbox, SugarSync, Google Drive and SkyDrive. These cloud services are an easy solution for sharing data with friends and fellow collaborators, they're a simple automatic "offsite" backup of Documents, and they let you access your data from mobile devices or other PCs via the internet. But is all your personal data safe out there on the Internet?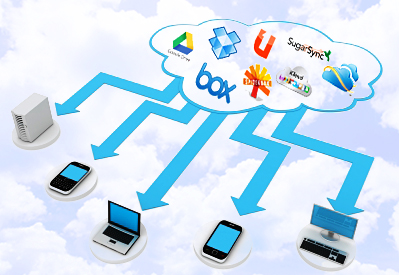 It's a known fact that Online Passwords can and have been hacked. Not to say that Password Protection isn't safe, but passwords are vulnerable to dictionary and brute force attacks from hackers through malware and security breaches. On a number of occasions, Dropbox accounts have been exposed and compromised through these types of vulnerabilities, as well as other popular cloud service accounts. Customer and employee passwords have been stolen and used to sign into users' accounts; which gives hackers access to all the data stored on the account. Imagine having sensitive tax documents or vital company info stolen by hackers because your cloud service company was compromised.
Not all cloud storage apps use data encryption which is something to check If you have a standalone cloud storage app installed on your computer. Data can also be captured "en route" if strong encryption is not in place. Your data isn't always immune to search and seizure by local government entities either. In the U.S., for example, any cloud storage company could be served a subpoena requiring them to open their clients' data for government examination or seizure .
In light of these reservations, more and more companies have started asking the question "Is there a cloud storage solution that lets me host my own data and still be able to access it from users' mobile devices?" The answer is yes, and as time goes by, we hope to see more companies develop solutions in this growing market. There are a few companies offering this kind of solution in Private cloud storage hosting that we've found interesting enough to take note of.
Varonis DatAnywhere
Varonis DatAnywhere gives IT the ability to provide an alternative to cloud-based file sharing solutions and at a fraction of the cost of shipping data to the cloud. Your corporate infrastructure is managed and protected according to your corporate policies and fits your data governance workflow. DatAnywhere lets you instantly transform your corporate infrastructure into a secure cloud-like file synchronization platform. DatAnywhere lets you Create a secure private cloud experience using your existing file sharing Infrastructure while keeping the data on your own file servers. Your existing NTFS File/Folder permissions are synchronized with Active directory. Secure, enterprise-capable file synchronization and mobile device access is included in the DatAnywhere Service. Definitive copies are always stored on corporate storage and you are able to control speed, availability, and security of your own hosted data.
Varonis DatAnywhere translates legacy LAN protocols (CIFS) into a secure, weboptimized protocol (HTTPS) via a dynamic, scalable data-routing infrastructure that facilitates https access and block-level syncing with remote devices. All DatAnywhere components reside within your corporate network and run on standard servers — DatAnywhere components can be installed on a single virtual node for small environments, or be distributed to scale to an enterprise with many file servers/NAS devices in many locations.
Novell FilR.
Novell Filr provides enterprise-level mobile file access and sharing. Novell Filr allows your users to access their home directories and network folders on any mobile device, as well as synchronize their files to their PC and Mac computers. They can also share the files internally and externally and comment on shared files. Rather than move your data to the cloud, Filr lets you keep files and data where they are today and where they belong–in established and secure company file storage that already meets your regulatory requirements; your own file servers.
IT doesn't have to provision new storage for Filr users. It's already there; configured n Active Directory. The backup and security systems that IT has built (and you've invested in) continue to protect your data on Filr. Filr fits nicely into both Windows Server and Novell Open Enterprise Server environments. IT can control file access and sharing so public material can spread while intellectual property stays put.
---
---